Star One Step All Purpose Primer/Sealer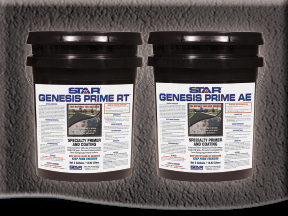 STAR® ONE-STEP™  is now STAR® GENESIS PRIME RT.  STAR Genesis has all the same properties as One-Step but with a new name.
STAR® ONE-STEP™ is a water based coating that acts both as a primer and sealer for problematic areas on asphalt pavements. STAR® ONE-STEP™ will eliminate the need for excessive surface preparation that could damage the asphalt substrate. STAR® ONE-STEP™ is a superior product that can be used for coating concrete areas such as; Drive through lanes, gas stations, or any other area where concrete and asphalt are used together, and a uniform appearance is desired. STAR® ONE-STEP™ will not only protect the asphalt surface it will beautify any pavement that has been discolored due to petro-chemical contamination staining the surface. STAR® ONESTEP™ is a pavement maintenance product that will act as an important part of your regular pavement maintenance schedule providing two distinct benefits – protecton of the asphalt surface and prohibition of the staining and damaging of contaminated asphalt surfaces.