Star Bright Plus Traffic Marking Paint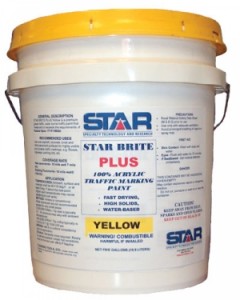 Very fast drying (3-4 minutes), 100% acrylic latex traffic paints with excellent brightness, hiding and fade resistance
OUTSTANDING FEATURES INCLUDE:
Fast drying. Has been approved by various states.
Excellent for night time application.
Excellent durability and color retention.
Excellent adhesion to glass beads.
Non-bleeding performance.
Bright highly visible lines with solid hiding power.
Low toxicity, Low Volatile Organic Content (V.O.C.) per gallon. Low air pollution.
Low flammability
Ease in application and clean-up, water – reducible.